It's 2020 and with the rise in popularity of Bitcoin and cryptocurrencies, there are so many questions that pop into my head – how do I store and keep my cryptocurrencies safe? What's a cryptocurrency wallet? How do cryptocurrency wallets work? What are the best cryptocurrency wallets?
As traditional, fiat currencies are stored in physical wallets, Bitcoin and cryptocurrencies are stored in cryptocurrency wallets (digital wallets). Cryptocurrency wallets give you the ability to hold, send and receive cryptocurrencies like Bitcoin.
Before we get too deep into cryptocurrency wallets, let's do a quick refresher on the underlying blockchain technology for cryptocurrencies. I won't go anywhere. This article will be here waiting for you.
Read the Blockchain Technology 101 – What is Blockchain? guide first.
Also be sure to read the Bitcoin 101 – What is Bitcoin? guide too if you haven't yet.
Now that that's settled, back to cryptocurrency wallets. The wallets give you access to the ledger, the transactions and thus your funds.
There are thousands of cryptocurrencies out there and they all behave a little differently. For the rest of this guide, I'll focus on the King of cryptocurrencies, Bitcoin, to make it simpler when discussing features. I assume you've bought Bitcoin or was sent some from friends. Be sure to find out other places to get Bitcoin and other cryptocurrencies from the cryptocurrency tools and resources page.
How Do Cryptocurrency Wallets Work?
When we say cryptocurrency wallets are used to "store" cryptocurrencies, this means that these wallets hold the private and public keys that control the Bitcoin you have.
These keys work as an identifier and interact with the blockchain to enable the receiving and sending of cryptocurrencies. When you send or receive cryptocurrencies such as Bitcoin, you are signing the ownership from one user to another using the wallet and the blockchain technology itself through private keys, public keys and addresses.
Private Keys, Public Keys, Addresses – Oh My!
The relationship goes like this:
Private Key -> Public Key -> Public Address
Private Key
A Private Key is like a 64-character password that gives you access to your Bitcoin, cryptocurrency. If you want to send Bitcoin anywhere, you need your private key. The private key is not to be shared with anyone, unless you want the other person access your Bitcoin. Losing your private keys could mean that you could end up losing all your BItcoin from your wallet.
Example of a Bitcoin Private Key (not real): E9873D79C6D87DC0FB6A5778633389F4453213303DA61F20BD67FC233AA33333
Public Key
A Bitcoin Public Key is 130-characters long and derived from a private key. The public key is shared when you send Bitcoin, because it's needed to prove to the blockchain the send request is from your private key. This is less known to more casual users and that's fine. The thing to know here is that public addresses are derived from the public key.
Example of a Bitcoin Public Key (not real):
33E9873D79C6D87DC0FB6A5778633389F4453213303DA61F20BD67FC233AA33333E9873D79C6D87DC0FB6A5778633389F4453213303DA61F20BD67FC233AA33333
Public Address
A Bitcoin Public Address is 34-characters and created from a public key. This is the address that you give to others, so they can send you cryptocurrency. The public address acts like your bank account number.
Example of a Bitcoin Public Address (not real):
19v3UpzVABVb8kVwpcLVKShwxjSvrH5aa
There you have it, private keys, public keys and public addresses. It's a one-way street when it comes to creating one thing from another. Your private key leads to a public key which leads to a public address.
It DOES NOT go like this:
Public Address -> Public Key -> Private Key
If someone has your public address, they won't be able to figure out your public key. Likewise, if they have your public key, they won't be able to figure out your private key to access all your Bitcoin (at least not without quantum computing possibly).
So as long as you're keeping your private key safe, then you're good to go. It's like keeping your login password to your bank account, except your private key is even harder to guess because it's 64 characters long.
For simplicity, one private key creates one public key which creates one public address.
Deterministic wallet
To achieve a higher level of security, some cryptocurrencies like Bitcoin use a deterministic approach that allows you to create multiple keys and addresses from a single seed phrase. "Single" is a bit misleading as a seed phrase is actually a set of words, sometimes 12 different words.
A seed phrase (aka seed words, seed recovery phrase, backup seed phrase) is a list of words that acts as your ultimate backup key and backups your private and public keys on the blockchain. You don't need to keep 20 private keys safe, you just need to keep your seed phrase safe.
For example, if you create your Bitcoin wallet on a desktop wallet app, you'll be able to access the same, exact Bitcoin wallet on a mobile wllet app. You then have no downtime and you immediately have access to all your Bitcoin. In function, it's similar to using your username and password across multiple computers and mobile phones.
The great thing about deterministic wallets is the creation of multiple keys and addresses that tie back to the same wallet, allowing you to stay private. Bitcoin's blockchain is publicly accessible and anyone can lookup public addresses to see how much Bitcoin a specific address is holding. If you gave your address for someone to send you Bitcoin and you don't want them to see how much Bitcoin you have, you can give them a fresh address and access the Bitcoin within the same wallet.
Importance of Cryptocurrency Wallets
Cryptocurrency wallets offer secure ways to send or receive cryptocurrencies such as Bitcoin. Cryptocurrencies support the concept of anonymity and the highest level of security. When it comes to cryptocurrency wallets, they are designed in a way to help with that in varying degrees.
Types of Cryptocurrency Wallets
Cryptocurrency wallets can be classified into two types: Hot wallets and Cold Storage wallets.
Hot wallets – Recommend to hold smaller amounts on hot wallets, because these are less secure than cold storage wallets.
Cold Storage Wallets – This is where the majority of your crypto should be held, if possible. Hold your long term cryptocurrencies in cold storage, because they're the most secure. I personally use the Ledger Nano X, described in more detail below.
Hot Wallets:
Hot wallets usually exist in the form of software and is connected online. Your cryptocurrencies are more readily accessible with hot wallets, so if you find yourself sending Bitcoin often, keep an amount on a hot wallet for easier access.
Most hot wallets can hold multiple coins and are easy to setup. But the fact that they are connected to the internet makes it more prone to online attacks. Let's take a look at different hot wallets.
Desktop Wallets
Desktop wallets are software programs that are installed on your computer, connect to the internet, and manage your private keys. But as it can connect to the internet, there is the threat of a virus attacking your computer. Another reason to always protect your computer against phishing and malware by keeping anti-virus software updated and not visiting unsafe websites.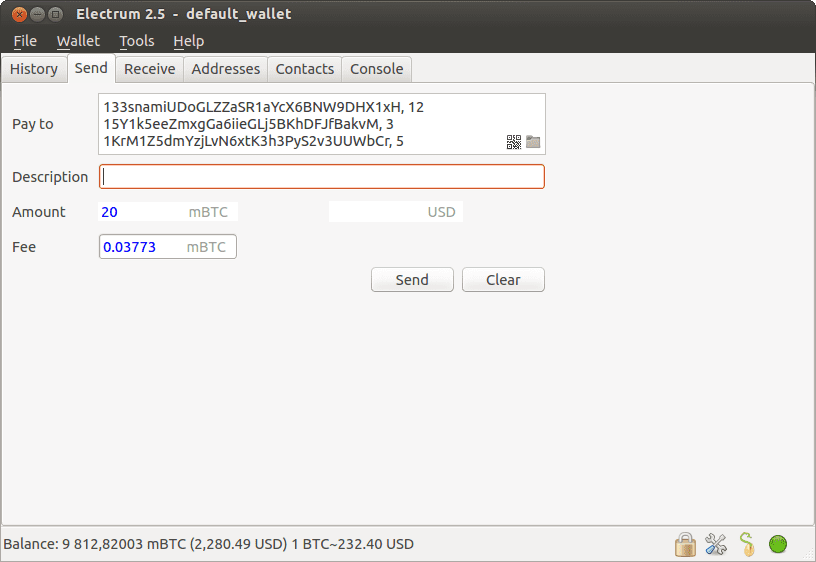 Electrum, Bitcoin – Excellent Bitcoin wallet, but not very pretty. It's open-source, so less chance of malicious code, because it's open for people to see dig into the code. Available for Mac, PC, Linux, and Android.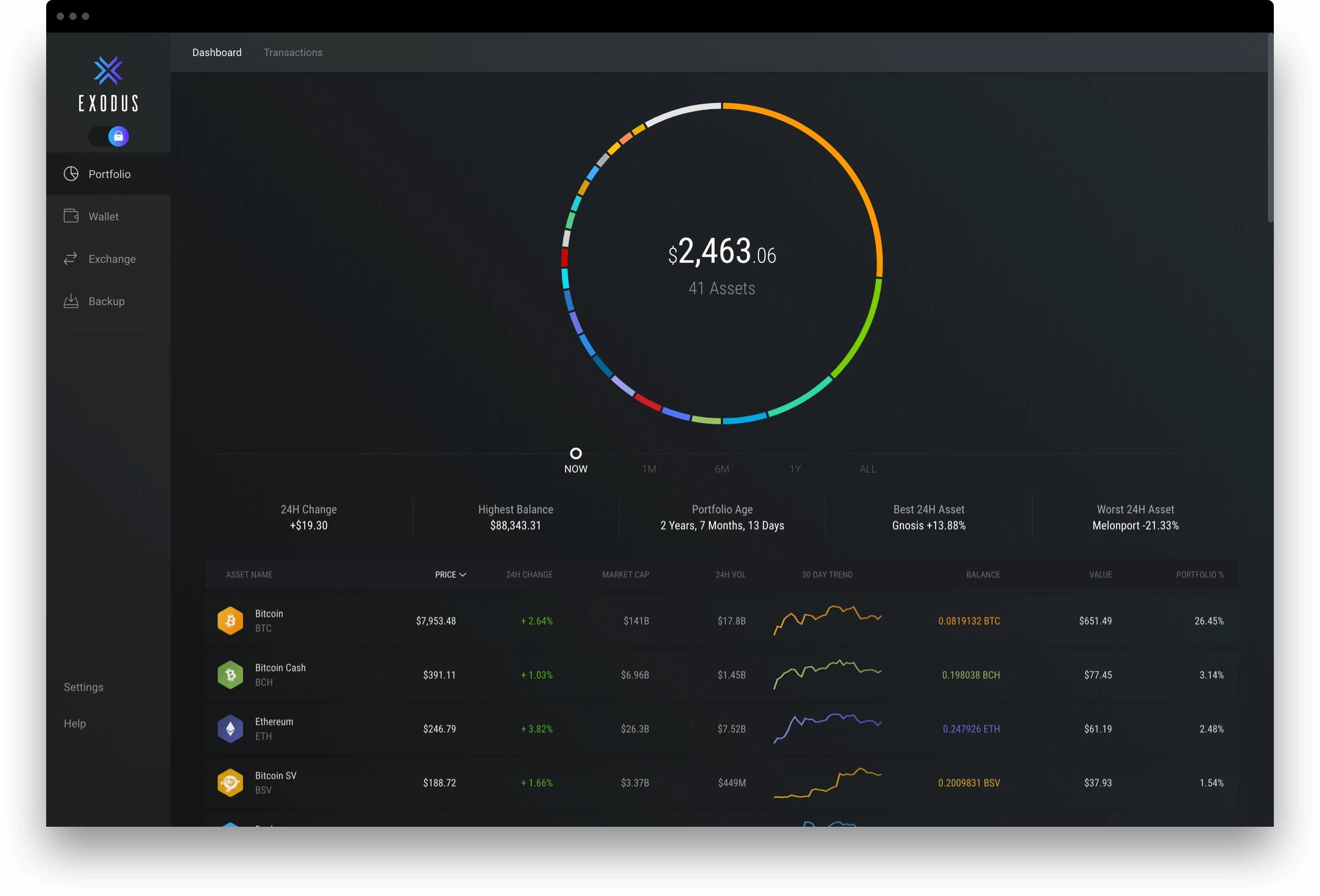 Exodus, Multi-currency – Easy to use, holds multiple cryptocurrencies and available for multiple platforms – Mac, PC, iOS, Android.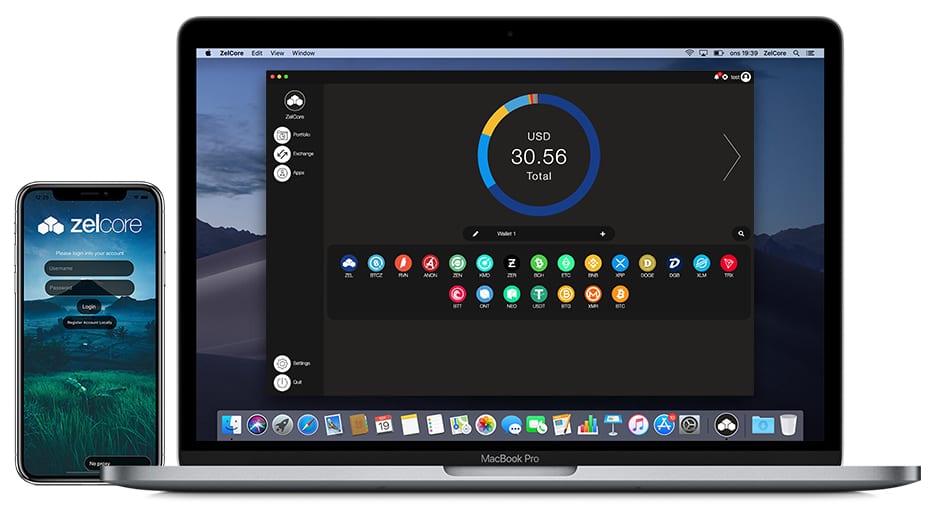 Zelcore, Multi-currency – This is a newer one, but already making great headway. Easy to use and holds multiple cryptocurrencies. Available for Mac, Windows, Linux, iOS, and Android. Disclaimer: I personally use this and hold the ZEL cryptocurrency. I also hold a Super ZelNode (masternode) of ZEL, because I believe in them long term.

Online Wallets:
These kinds of wallets are easily accesible as they could be accessed from anywhere and on any computer. The drawback of these wallets is that a third party controls them, and your data could potentially be vulnerable if the website creators keep your login passwords unencrypted on their websites. Even though the site might say that they don't store them, it's always good to exercise caution.
MyEtherWallet, Ethereum – This was my first cryptocurrency wallet that wasn't an exchange wallet, because it was the easiest way to create a wallet for Ethereum and other tokens on the Ethereum blockchain. It's compatible with my Ledger Nano X too, so I go on the site to send Ethereum / ERC20 tokens when I need to. They did come out with mobile apps, but I haven't tested them, so cannot recommend as of writing.

Metamask, Ethereum – This is actually a web browser extension app and it's amazing. Easy to use. While they used to be browser-only, looks like they have iOS beta app and Android apps now too. It supports many decentralized apps / games, so I keep some Etherereum in there. Supported browsers are Chrome, Firefox and Brave.

No Bitcoin-only options here as there are simply too many options to store Bitcoin that are safer.
Mobile Wallets:
As you can see from mentions above, mobile wallets are becoming more and more popular, so even previously desktop-only wallets have mobile versions. I personally don't use the mobile wallet too much, unless I have no choice for specific cryptocurrencies (which is very rare). The biggest reason is "What happens if my phone is stolen or lost?" But, mobile wallets are super convenient, because you can send and receive cryptocurrencies on the road.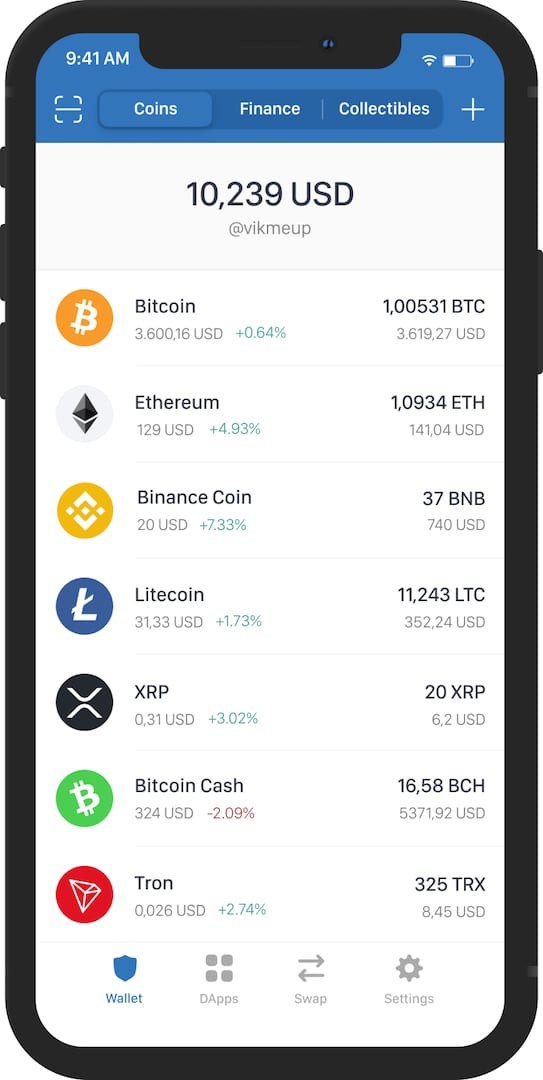 Trust Wallet, Multi-currency – Trust Wallet became Binance's official cryptocurrency wallet after Binance acquired Trust. Easy to use and holds multiple cryptocurrencies. Available for iOS, and Android.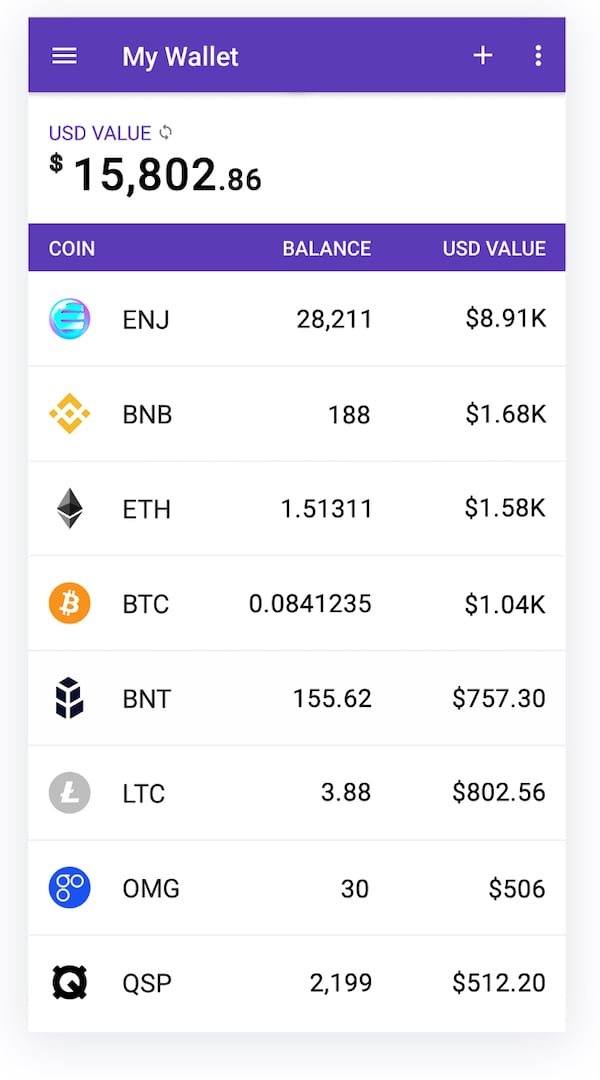 Enjin Wallet, Multi-currency – A multiple cryptocurrency wallet with a focus on security. Also holds collectibles that you can trade, buy and sell. They have many security features including their own secure Enjin Keyboard. Available for iOS, and Android.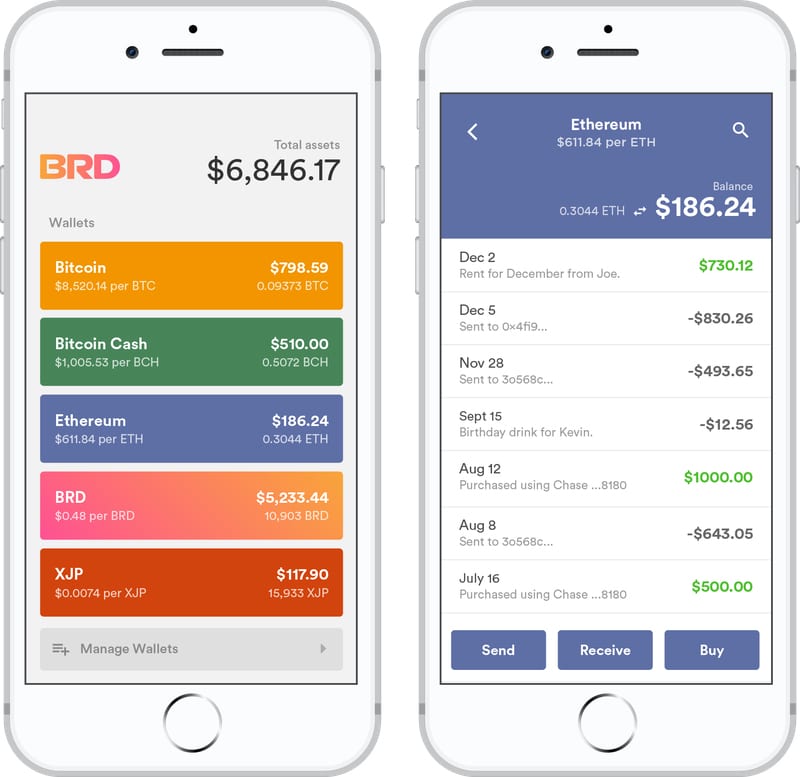 BRD Wallet, Multi-currency – Another great mobile wallet that has a nice design. Easy to use and holds multiple cryptocurrencies as well. Available for iOS, and Android.

Exchange Wallets:
Similar to traditional stocks, cryptocurrencies also have online trading platforms. Online exchanges allow users to buy and sell Bitcoin and other cryptocurrencies.
Many cryptocurrency holders will buy Bitcoin and other cryptocurrencies on places like Binance and Coinbase. The user will then leave the cryptocurrency on the exchange's site, effectively using the exchange as their wallet.
This is NOT RECOMMENDED as you do not own your private keys, so you're at the mercy of the exchange and hoping they are not hacked, nor go out of business.
There are multiple stories of exchange scams, exchanges closing down and not able to give cryptocurrencies back to their users, etc. If you buy cryptocurrencies on exchanges, always withdraw soon after and control them yourself.
When you withdraw, you can withdraw to any of the hot wallet options above, but it's best to transfer them to cold storage wallets. As exchange wallets are the least recommended wallets, cold storage wallets are the most recommended.
Cold Storage Wallets:

Cold storage wallets are offline wallets in the form of hardware options (eg., Ledger Nano X) and paper wallets. Cold storage wallets are more secure, but require more effort to access your cryptocurrencies.
Paper Wallets: Paper wallets are a form of physical storage where private keys are printed or written on a piece of paper. Private keys come as a series of letters and numbers, or as a scannable QR code that will turn into characters upon scan.
To protect yourself from losing the paper with your private keys, you can print a couple copies of the keys. Store one in a security box at the bank and store one at home. Why not just at home? Think about worst case scenarios. What if the house catches on fire? What if a burglar steals your safe and now has the only copy of your private key? Always good to have a safe backup, because you never know.
Hardware Wallets: Hardware wallets are one of the most commonly used wallets in the cryptocurrency space. They offer the highest level of security as they are offline and the data is kept safe in the form of a hardware device like a USB drive. Your private keys are held on the hardware wallet and difficult to find without some technical know-how, so you will need the actual device if you want to access your Bitcoin.
Most hardware wallets are accessed by inputting a pin that you create, and you can send cryptocurrencies by plugging in your hardware wallet to a computer. Hardware wallets are compatible with most computer operating systems. Any type of physical damage, theft or loss to the hardware device would be the risks to using hardware wallets.
Best Hardware Wallets
Although there are many hardware wallets available in this guide, we will discuss two of the most commonly used hardware wallets, because I advise everyone to use hardware wallets if you plan to hold Bitcoin cryptocurrencies long term.
Ledger Nano X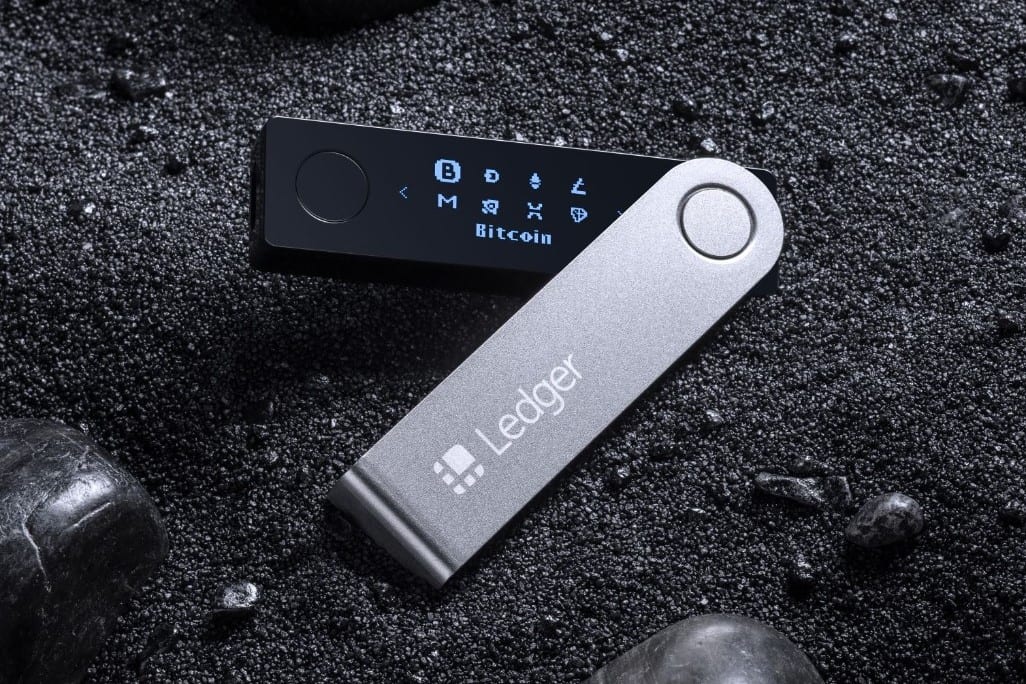 I personally use the bluetooth enabled Ledger Nano X and through it's Ledger Live app, I'm able to access my cryptocurrencies with my Macbook Pro and iPhone. The Ledger Nano X is also the only hardware wallet that'll connect with mobile devices (iOS), because it has bluetooth.
As the name suggests, the Ledger Nano X is the size of a small USB and is very easy to carry around and hide. This wallet is in the category of deterministic wallets, adding to its security and reliability.
When you setup the Ledger Nano, it'll give you a seed phrase to write down. And as explained above about seed phrases, you'll be able to transfer the wallet to another Ledger Nano easily.
In fact, I have two Ledger Nano X wallets that are loaded with the same seed phrase, so they're interchangeable and the perfect backup. I have one that's at home and another stored in a separate, safe location.
The Ledger Nano X retails for $119.00.
Pros
High Security
Small and lightweight
Supports multiple cryptocurrencies

Cons
Hardware is not open-source
Navigation can be a little tedious due to pressing keys to input Pin

Trezor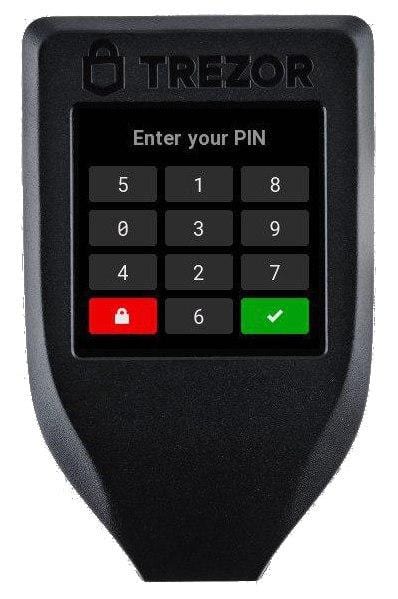 The Trezor Model T is the more expensive of the two hardware wallets.
Many of the features are the same with pins, multi-cryptocurrencies. The Model T has a color touchscreen, instead of physical buttons.
The interface of Trezor wallets is quite user-friendly, and it is one of the widely used crypto wallets, especially for Bitcoins.
The Trezor Model T retails for $149.
Pros
High Security
Small and lightweight
Supports multiple cryptocurrencies

Cons
More Expensive
USB cable needed
Navigation can be a little tedious due to pressing keys to input Pin

Altcoin Wallets
Although Bitcoin is the top cryptocurrency, there are still a large number of altcoins that are gaining popularity over time.
Some altcoins are built upon existing blockchains like Bitcoin and Ethereum, others build their own blockchains from scratch. Especially for the altcoins that have their own blockchains, they'll also create their own altcoin wallet.
If it's a popular enough altcoin, most of the wallets mentioned above will integrate the ability to hold the altcoin in their wallets. So it is better to go for wallets that support multiple cryptocurrencies, instead of single cryptocurrency wallets.
Are Cryptocurrency Wallets Secure – A Brief Comparison
Although there are various types of Cryptocurrency Wallets with each assuring highest level of security still, how you use the wallet and secure things at our end matters a lot. Even if the wallet is safe, but somehow you end up compromising private keys, the security of the wallet will not matter in such a case.
When it comes to online web wallets, they offer ease of use as they could be used from almost anywhere with an internet connection. But the fact that there are third parties hosting the wallets could make it a threat.
Offline wallets could prove to be more secure as when disconnected from the device, they are offline, and there is no chance of security breach arracks. Also, the software installed in them offers a high level of security, and the hardware device itself is built from sturdy material.
Security Measures for Cryptocurrency Wallets
When it comes to selecting one for you, make sure you select one based on your requirements and the level of wallet security that you're comfortable with. Here are some security measures you can take to ensure that your private keys and cryptocurrencies are as safe as possible:
Keep your wallets updated – when any updates arrive, install the updates as it could be an essential security update due to new threats
Make sure your private keys are always kept safe
Keep backups of your keys in a safe place, eg., safety deposit box
Always use well-known wallets that have a good reputation in the market

The Bottom Line
Now that cryptocurrencies have become so popular, the importance of safe and secure wallets is increasing. There are a lot of wallets available in the market, with each of them having their own advantages and disadvantages.
Different types of wallets have varying degrees of ease of use and security risks. Be sure to select the one you're most comfortable with.
Much like how you choose your own physical wallets to hold your fiat cash and credit cards, much of it is personal preference. How you choose your login passwords for your bank's website, emails, and others, it's personal preference on the level of security you want.
So which wallets do you like? Let me know in the comments!
Here's a handy recap of the ultimate guide on cryptocurrency wallets and what's best for you:
Cryptocurrency wallets have Public and Private Keys that are utilized depending on whether you want to send or receive cryptocurrencies like Bitcoin.
There are many ways to hold your Bitcoin and cryptocurrencies. Some wallets are specific to a cryptocurrency and others can hold multiple cryptocurrencies.

1. Hot Wallets – Provides quick and easy access to your Bitcoin Cryptocurrency. Think of it like putting your fiat currency in your bank account that you can access through the bank's online site.

2. Cold Wallets – Your Bitcoin Cryptocurrency are less accessible and requires effort. Think of it like putting something in your bank's security box. It requires effort to go to the bank, prove your identity to the bank and have physical access to your security box.
There are many hot wallets and they're all software based. Be sure to do your research and download them directly from the provider and not a third-party, because you don't know if the third-party might've added malware or other viruses.

1. Desktop Wallets – Electrum, Exodus, Zelcore
2. Online Wallets – MyEtherWallet, Metamask
3. Mobile Wallets – Trust Wallet, Enjin Wallet, BRD Wallet
4. Exchange Wallets – Binance, Coinbase
If you're hodling (holding) and don't need the easy access on the daily, it is best to hold your Bitcoin and Cryptocurrencies in a cold wallet.

1. Paper Wallets – Paper and pen, printed
2. Hardware Wallets – Ledger, Trezor
There are many hardware wallets out there now and new ones all the time as well. I'd still go with one of the two main established players in the industry: Ledger and Trezor.

1. Ledger Nano X – The best out there in my opinion and less expensive than the Trezor.
2. Trezor Model T – Second in my opinion, but still a favorite for some.
If you have Bitcoin and cryptocurrencies in your wallets, you'll want to keep your wallets secure, right?

1. Keep the wallet updated
2. Keep your Private Keys in a safe place
3. Keep backups of your Private Keys in a separately located place, eg.,safety deposit box
4. Always use wallets that have a good reputation and download from their sites or Github directly